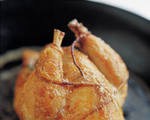 Prep: 5 min
Cook Time: 55 min
Total: 1 hr
Serving: 4-6
Make this ahead of time and store in an airtight container. Use half to coat 2 pounds of chicken.
Ingredients
1 cup flour
2 teaspoons salt
1 teaspoon pepper
1/2 cup cracker crumbs
1 teaspoon of each herb: thyme, oregano, basil
milk or buttermilk to moisten chicken
Directions
Combine dry ingredients, stirring to mix.
Use half of the mixture to coat 2 pounds of chicken. Moisten chicken with milk or buttermilk and shake with mix in a paper bag to coat well.
Bake coated pieces in a greased baking pan at 350 degrees F for 45-55 minutes.