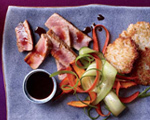 Prep: 10 min
Cook Time: 12 min
Total: 22 min
Serving: 4 Servings
Serve this elegant meal of sliced seared tuna steaks and citrus soy sauce with a side of steamed ribbon vegetables, potato fritters and a bottle of Chardonnay.
Ingredients
1/2 cup soy sauce
1/4 cup mirin
1 small shallot, thinly sliced
1/2 jalapeño, seeded and chopped
2 tablespoons fresh orange juice
1 3-inch strip of lemon zest plus 1 tablespoon fresh lemon juice
1 teaspoon sugar
1/4 teaspoon ground coriander
1 tablespoon olive oil
4 4-ounce tuna steaks, 1 inch thick
Sea salt and freshly ground pepper
Directions
Place the soy sauce, mirin, shallot, jalapeño, orange juice, lemon zest and juice, sugar and coriander into a saucepan over medium heat. Cook the mixture for about 10 minutes, stirring frequently, until reduced by half.
Place the olive oil into a large sauté pan over high heat. Once it begins to shimmer, sprinkle the tuna steaks on both sides with salt and pepper and then place in the pan.
Cook for 1 minute on each side and then transfer the seared tuna to a cutting board. Let rest for 1 minute before slicing and then serve immediately with the prepared citrusy soy sauce.