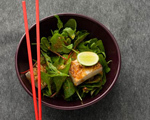 Prep: 25 min
Cook Time: 8 min
Total: 33 min
Serving: 4 Servings
Freshly squeezed juice, soy sauce, grated garlic and fresh ginger give this Asian-inspired vegetarian dish, intense and sharp levels of favor.
Ingredients
1/4 cup freshly squeezed orange juice
2 tablespoons soy sauce
2 teaspoons finely grated garlic (about 4 cloves)
2 teaspoons finely grated peeled ginger
1 teaspoon sugar
2 pounds firm tofu, rinsed and drained and cut into 8 pieces
4 tablespoons vegetable oil, divided
2 tablespoons fresh lime juice
10 ounces mixed baby Asian greens
Sea salt and fresh black pepper
Directions
Put the greens in a bowl and set aside.
Place the orange juice, soy sauce, garlic, ginger, sugar, and a pinch of salt into a bowl and whisk vigorously until blended. Add the tofu to the orange juice mixture, mix to coat and then set aside to marinate for 15 minutes.
Place 3 tablespoons of olive oil into a large sauté pan over medium heat. Once the oil begins to shimmer, add the marinated tofu and cook for 4 minutes on each side, then transfer to a plate.
Pour the lime juice into the pan, along with the remaining olive oil, and whisk to combine. Pour the lime mixture over the greens, add a few pinches of salt and pepper and then toss to coat. Serve the seared tofu on top of the mixed greens.