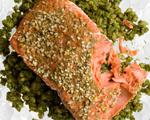 Prep: 35 min
Cook Time: 35 min
Total: 1 hr 10 min
Serving: 4 Servings
This sophisticated meal combines seared salmon on a bed of lentils with glazed pearl onions. The spicy crust provides an exotic twist of flavor, capturing the essence of spicy Moroccan cuisine.
Ingredients
12-16 white pearl onions
1-1/2 teaspoons unsalted butter
3/4 teaspoon sugar
1/4 teaspoon salt
1/4 teaspoon freshly ground pepper
1-1/2 teaspoons curry powder
1-1/2 teaspoons coriander seeds
1-1/2 teaspoons cumin seeds
1-1/2 teaspoons caraway seeds
1-1/2 teaspoons anise seeds
1-1/2 teaspoons black peppercorns
1 pound salmon fillet, cut into 4 pieces
1 cup cooked lentils
Directions
Fill a medium saucepan 3/4 of the way full with water, and bring to a boil. Add the onions and simmer, covered, for 4 minutes. Drain the onions and set aside until cool enough to handle. Cut off roots and remove the thick skins.
In a nonstick sauté pan, melt the butter over medium-low heat and sauté the onions until golden brown, approximately 15 minutes. Mix in the sugar and continue stirring until the onions are glazed, about 5 minutes. Sprinkle with salt and pepper and cover to keep warm.
In a small bowl, combine the curry powder, coriander, cumin, caraway, anise and peppercorns. Using a spice grinder or mortar and pestle, grind the mixture to a coarse consistency. Rub each side of the salmon with the spice mixture, making sure to coat well.
Spray a large nonstick sauté pan with cooking spray and set over high heat. Place the salmon in the pan and cook for approximately 4 minutes on each side, until the fish is browned and opaque in the center. Divide lentils on 4 plates and place salmon on top of the lentils; garnish with the glazed pearl onions. Serve immediately.