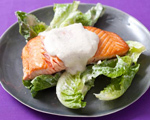 Prep: 15 min
Cook Time: 7 min
Total: 22 min
Serving: 4 Servings
You can't get any healthier or more delicious than this pan-seared salmon and yogurt-based Caesar salad. Serve with a bottle of Pinot Noir or Sauvignon Blanc for a fantastic dinner meal.
Ingredients
1 garlic clove, mined
1/2 cup plain Greek yogurt
1/2 tablespoon anchovy paste
1 tablespoon fresh lemon juice
1 tablespoon Dijon mustard
1/2 teaspoon Worcestershire sauce
1/4 cup grated Parmesan cheese
1 romaine heart, thinly sliced (about 6 cups)
1-1/2 pound salmon fillet (1 1/4-inch thick), rinsed, patted dry and cut into 4 portions
1 tablespoon olive oil
Directions
Mash the garlic with a pinch of salt to form a paste, and then place in a blender with the yogurt, anchovy paste, lemon juice, mustard, Worcestershire sauce, and cheese. Process the mixture until smooth.
Place the romaine in a bowl and toss to coat with 3 tablespoons of the dressing. Divide the lettuce between 4 plates and set aside.
Put the oil in a large sauté pan over medium-high heat. Once it begins to shimmer, sprinkle the fish on both sides with salt and pepper and then place in the pan, skin side up, for 3 minutes. Flip the fish and cook for an additional 4 minutes before transferring to the prepared plates with the lettuce.
Drizzle the seared salmon fillets with some of the dressing and serve immediately.