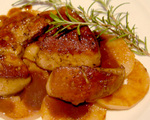 Prep: 10 min
Cook Time: 15 min
Total: 25 min
Serving: 8 Servings
Foie gras is a treat and this recipe will be exactly that.
Ingredients
1 (1 1/4 pound) lobe Grade-A duck or goose foie gras, impurities and veins removed, cut lengthwise into 1/2-inch thick slices
Kosher salt
Freshly ground black pepper
1 tbsp clarified butter or vegetable oil
1/2 cup thinly sliced shallots
2 large apples, peeled, cored, and cut into small chunks
1/4 tsp nutmeg
1/2 tsp cinnamon
1/4 cup Armagnac
16 slices brioche or similar bread, toasted
Directions
Lightly season both sides of the sliced foie gras with salt and pepper.
Heat the clarified butter or vegetable oil in a large non-stick skillet over medium high heat, but be sure the skillet is not smoking. Sear the foie gras in batches, about 45 seconds per side. Remove foie gras from the pan and cover to retain heat.
Add the shallots, apples, cinnamon and nutmeg to the remaining fat in the skillet, and cook while stirring until caramelized and tender--about 7 minutes.
Remove the pan from the heat and add the Armagnac. Return to the heat and cook until the brandy is nearly evaporated, about 2 minutes.
Divide the foie gras and apple mixture among plates and garnish with the toasted brioche. Serve immediately.