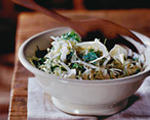 Prep: 10 min
Cook Time: 5 min
Total: 15 min
Serving: 6 Servings
Cabbage and fennel are first seared in a skillet to lock in caramelized flavor, and then sliced and tossed with spicy green chilies, caraway seeds and orange segments to make a zesty and piquant slaw.
Ingredients
1 bulb fennel
1/4 head red cabbage
1/4 head cabbage
2 tablespoons olive oil
1 cup sour cream
2 tablespoons caraway seeds
1/2 teaspoon red pepper flakes
2 green chilies diced
salt and freshly ground pepper to taste
3 tablespoons chopped cilantro
segments of 2 oranges
Directions
Place the olive oil into a skillet over medium-high heat. Once it begins to shimmer, add the cabbage and the fennel to the pan and sear on all sides until light brown. Set the vegetables aside on a clean countertop and then slice each into long strips once cool enough to handle.
Place the cabbage, fennel, orange segments and a few pinches of salt and pepper into a bowl and toss to combine. Add the sour cream, caraway seeds, red pepper flakes, chilies, and cilantro, and toss the mixture once more to mix.