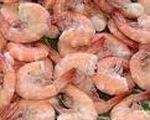 Prep: 35 min
Cook Time: 40 min
Total: 1 hr 15 min
Serving: 4
Serve rich and hearty Seafood Creole Italian Style in large bowls with white rice.
Ingredients
1/2 cup eggplant, peeled and cubed
1/2 cup zucchini, sliced thin
1/2 cup fresh mushrooms, sliced
1/2 cup onion, chopped
1/2 green pepper, sliced
1/4 cup celery, chopped
2 tablespoons olive oil
1, 16 ounce can tomatoes, cut up
1/2 cup dry red wine
1 tablespoon soy sauce
1 teaspoon Italian seasoning
1 teaspoon oregano, crushed
1/4 teaspoon ground sage
1/4 teaspoon garlic powder
1/8 teaspoon pepper
1/2 cup shrimp, peeled, deveined, cut up
1/4 cup pimento-stuffed olives, halved
2 tablespoon capers
1, 6 1/2 ounce can tuna, drained
hot cooked white rice
Directions
Cook eggplant, zucchini, mushrooms, onion, pepper and celery in hot oil until tender. Add undrained tomatoes, wine, soy and the seasonings. Simmer uncovered for 30 minutes.
Add shrimp, olives and capers. Simmer 8 minutes. Stir in tuna; heat through. Serve with rice.