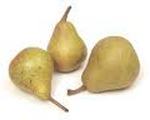 Prep: 3 hr 15 min
Cook Time: 5 min
Total: 3 hr 20 min
Serving: 6
Light green Seafoam Salad is flavored with lime jello and studded with pears.
Ingredients
1, No. 2 1/2 cans pears, reserve juice, mash pears
1, 3 ounce package lime gelatin
6 ounces cream cheese, softened
2 tablespoons cream
1 cup heavy cream, whipped
Directions
Heat 1 cup reserved pear juice to boiling. Pour over gelatin and stir until dissolved; cool. Mix cheese and 2 tablespoons cream until smooth. Add gelatin mixture and beat with electric mixer until well blended. Chill until partially set. Fold in mashed pears and whipped cream. Pour into mold. Chill until firm.