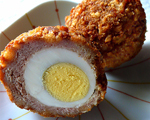 Prep: 35 min
Cook Time: 7 min
Total: 42 min
Serving: 6 Servings
This sausage and egg dish resembles mini meatloaves, except these are deep fried until crispy and golden brown.
Ingredients
1 pound ground sausage meat
3 tablespoons minced fresh chives
3tablespoons chopped fresh parsley
1 large egg
1 tablespoon Dijon mustard
5 cups fresh breadcrumbs
1 cup all purpose flour
6 large hard-boiled eggs, peeled
Vegetable oil (for deep-frying)
Directions
In a large bowl, mix together the sausage, chives and parsley until well combined.
In a small bowl, whisk together the egg and mustard.
Place the breadcrumbs in a shallow bowl.
Place the flour in another shallow bowl.
Roll one of the eggs in the flour. Wet hands and take 1/3 cup of the meat mixture and press around a boiled egg to completely cover.
Brush the meat with the mustard mixture and then dredge in the breadcrumbs. Continue with the rest of the boiled eggs.
Fill a large saucepan with 1-1/2 of vegetable oil and heat until a deep-fry thermometer reads 325 degrees. Add the sausage and egg and fry for 7 minutes.
Remove and place on paper towels to drain. Transfer to a serving plate and serve immediately.