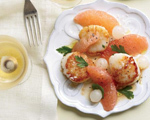 Prep: 10 min
Cook Time: 4 min
Total: 14 min
Serving: 8 servings
This simple yet complex-flavored dish combines the sweet and tart taste of ruby red grapefruit with pickled cocktail onions and pan-seared sea scallops. A delicious and eye-pleasing starter that will prove ideal for your next dinner party, serve with a French Chablis.
Ingredients
4 small ruby red grapefruits, about 2 pounds total
3 tablespoons pickled cocktail onions
2 tablespoons packed flat-leaf parsley leaves
Freshly ground pepper
24 sea scallops, about 2 pounds, rinsed and patted dry
Sea salt
1 tablespoon extra-virgin olive oil, plus more for drizzling
Directions
Peel the grapefruits, cut in half and then remove the juicy sections and place into a bowl. Add the cocktail onions, the parsley and a few grinds of fresh black pepper and gently toss to combine.
Place the oil into a sauté pan over medium-high heat. Once it begins to shimmer, sprinkle the scallops on both sides with some salt and then place in the pan and cook for 4 minutes, flipping once.
Put the scallops onto plates and top with the grapefruit and onion mixture. Add a drizzle of oil and serve immediately.