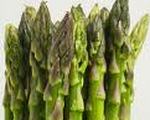 Prep: 15 min
Cook Time: 20 min
Total: 35 min
Serving: 4
Scallops and Asparagus in Cream sounds fancy but it's quick and easy to prepare on a weeknight.
Ingredients
3 tablespoons butter
1 pound asparagus, cut diagonally into 1 inch pieces
1/2 pound medium mushrooms, sliced
1 small onion, thinly sliced
1 small garlic clove, cut in half
1 pound fresh or frozen (thawed) sea scallops
1/4 cup dry white wine
3/4 teaspoon salt
1/8 teaspoon pepper
1/2 cup half and half
Directions
In 12 inch skillet over medium heat, in hot butter, cook asparagus, mushrooms, onion and garlic until vegetables are tender, about 10 minutes, stirring occasionally. Discard garlic; remove vegetables to medium bowl; set aside.
In same skillet over medium heat, cook scallops, wine, salt and pepper, stirring frequently, until scallops are tender, about 5 minutes. Stir in half and half and vegetables; heat through.