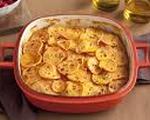 Prep: –
Cook Time: 25 min
Total: 25 min
Serving: Serves 8
A nice change from mashed potatoes, these scrumptious scalloped sweet potatoes can be made up to two days ahead and simply reheated in the oven.
Ingredients
2 pounds sweet potatoes, peeled, halved, and sliced 1/8-inch thick
2 tablespoons unsalted butter, softene
2-ounces thinly sliced prosciutto (about 4 slices), cut into small squares
3/4 cup coarsely ground fresh whole grain breadcrumbs
1 small clove garlic, smashed to a paste with a pinch of salt
Salt and freshly ground black pepper to taste
1/2 cup shredded fontina cheese
2 teaspoons chopped fresh thyme
1 cup cream
Directions
Preheat the oven to 400 degrees F.
In a large pot of salted, boiling water cook sweet potatoes until just tender; drain and spread out on a baking sheet to cool.
Coat a 1 1/2-quart baking dish with a bit of the melted butter; add remaining butter to a medium-sized skillet and place over medium heat; add prosciutto and cook, stirring often, until lightly browned. Toss the breadcrumbs and garlic with the prosciutto and set aside.
Arrange a single layer of sweet potato slices in the baking dish; season with salt and pepper and sprinkle half of the cheese and thyme on top; repeat with another layer of sweet potato slices, salt, pepper, and the remaining thyme and cheese; top with a final layer of sweet potato slices and season again with salt and pepper.
Meanwhile, bring the cream to a simmer in a small saucepan. Gently pour the cream over the sweet potatoes and scatter the prosciutto mixture on top. Bake for 25 minutes, or until sweet potatoes are fork tender.
Let cool completely and refrigerate. When ready to serve, preheat oven to 400 degrees F and bake for 20 minutes, or until heated through and top is golden.