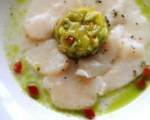 Prep: 1 hr
Cook Time: –
Total: 1 hr
Serving: 4 Servings
A ceviche is seafood that has been marinated in citrus, which "cooks" the seafood without using any form of heat. Enjoy this ceviche made with scallops and served with creamy and spicy guacamole.
Ingredients
4 very large sea scallops
1 teaspoon kosher salt
1/2 teaspoon freshly ground black pepper
Olive oil to drizzle when serving
For the Guacamole:
2 ripe avocados
1/2 cup whole, unpeeled, tomato, diced
1/4 cup finely chopped onion
1-1/2 teaspoons finely chopped garlic
2 tablespoons minced chili pepper
3 tablespoons finely minced scallion
1/4 cup coarsely chopped fresh cilantro
1 tablespoon lemon juice
1-1/2 tablespoons Olive Oil
3/4 teaspoon sea salt
1/2 teaspoon Tabasco green pepper sauce
Directions
Cut each scallop with a sharp knife crosswise into about 6 slices, each about 1/2-inch thick.
In a shallow baking dish, sprinkle 1/2 teaspoon salt and 1/4 teaspoon fresh pepper on the bottom of the dish. Place the scallops on top the seasonings in a single layer without overlapping. Sprinkle with the remaining salt and pepper and directly cover the scallops with cling film so it is lightly touching the top of the scallops. Refrigerate the scallops for a minimum of 1 hour, and maximum 16 hours.
For the guacamole, cut the avocados in halve and remove the pit. Scoop out the avocado flesh with a spoon and empty it into a large bowl. Add the tomato, onion, garlic, chili pepper, scallion, cilantro, lemon juice, olive oil, salt and Tabasco sauce. Crush and mix the ingredients with a fork until guacamole is creamy and chunky.
Place 6 scallop slices in a circle on a dinner plate, drizzle with olive oil and serve with 1/2 cup of guacamole in the middle of the slices.