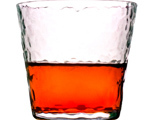 Prep: 5 min
Cook Time: –
Total: 5 min
Serving: 1 Serving
The Sazerac cocktail is a New Orleans rye whiskey and bitters concoction that was invented in the 1800s. It is considered one of the oldest American cocktails, if not the oldest.
Ingredients
1 sugar cube
1-1/2 ounces rye
2 dashes of Peychaud's Bitters
Dash of angostura bitters
Dash of absinthe
Twist of lemon peel
Directions
Fill a rocks glass with ice. In a second rocks glass, add the sugar cube with a few drops of water and then crush the cube.
Pour the rye and both bitters into the glass with the sugar, along with a few cubes of ice, and stir to combine.
Empty the ice out of the other glass and pour in the absinthe. Tilt the glass so the absinthe coats the inside and then strain the rye mixture into the glass.
Rub the lemon peel around the rim of the glass and then twist and squeeze the peel over the mixture. Discard the peel and serve the cocktail immediately.