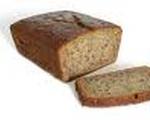 Prep: 5 min
Cook Time: 45 min
Total: 50 min
Serving:
This Savory Wheat Loaf is a meal in itself. Filled with nuts, cheese and onions it is a hearty, savory side dish.
Ingredients
1 cup pecans, finely ground
1 cup wheat germ
1 cup cheddar cheese, shredded
3/4 cup tomato juice
3 large eggs, beaten
1 large onion, chopped
1 teaspoon thyme
1/4 teaspoon marjoram
1/4 teaspoon salt
Directions
Mix all ingredients together and put in a loaf pan. Bake at 350 degrees F for 45 minutes.