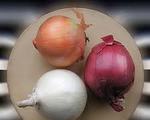 Prep: 25 min
Cook Time: 1 hr 30 min
Total: 1 hr 55 min
Serving: 4
Savory Pork and Sauerkraut are a perfect combination to be served over noodles or mashed potatoes.
Ingredients
1 1/2 pounds boneless pork shoulder, cut into cubes
1/2 cup onion, chopped
2 teaspoons paprika
1 teaspoon caraway seeds
1/2 cup water
2 cups canned sauerkraut, drained
2 teaspoons sugar
1/2 cup sour cream
2 tablespoons vegetable oil
Directions
Heat the vegetable oil in a heavy skillet or Dutch oven. Cook onions until transparent. Remove onions and set aside.
Add meat and brown on all sides. Add paprika, salt, caraway seeds, water, sauerkraut and sugar; bring to a simmer. Cover and cook for 1 hour or until tender, adding water if necessary.
Fold in sour cream and serve over potatoes or noodles.