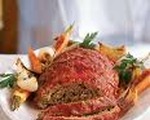 Prep: 15 min
Cook Time: 1 hr 10 min
Total: 1 hr 25 min
Serving: 8
Savory Meat Ring is baked in a 9 inch ring mold; fill center with mashed potatoes and vegetables.
Ingredients
3/4 cup onion, chopped
1/4 cup butter
1 egg, beaten
1 cup seasoned dry bread crumbs
1/2 teaspoon oregano
1/2 teaspoon basil
1 teaspoon salt
dash of pepper
2 cups applesauce
2 pounds ground beef
1/4 cup sherry
Directions
Saute onion in butter until golden. Combined crumbs, egg, herbs, salt, pepper and applesauce. Add meat and onion. Mix well.
Place in greased 9 inch ring mold. Bake at 375 degrees F for 30 minutes. Spoon sherry over meat ring and bake an addtional 30 minutes. Remove to platter and fill with hot cooked vegetables or mashed potatoes.