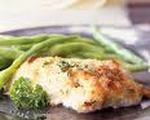 Prep: 15 min
Cook Time: 45 min
Total: 1 hr
Serving: 4
Use your favorite fish in Savory Fish Fillets.
Ingredients
1 large onion, cut in halves, thin sliced
2 tablespoons capers
12 large black olives, quartered
3 bay leaves
1 pinch of thyme
1 pound peeled tomatoes, crushed
12 ounces white wine
salt and pepper to taste
4 fish fillets
1 tablespoon olive oil
2 tablespoons butter
6 ounces white wine for cooking fish
parsley, chopped
Directions
In a large saucepan, saute onions, olives, capers, thyme and bay leaves in 1 tablespoons olive oil; then add tomatoes, wine, salt and pepper. Stir well and cover; cook over medium heat for 30 minutes, stirring often.
When sauce is ready, place 2 tablespoons butter in a large skillet with 6 ounces white wine and fish fillets. Pour sauce over fish and cover. Cook for 15 minutes. Garnish with chopped parsley.