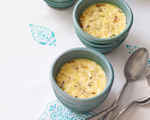 Prep: 20 min
Cook Time: 50 min
Total: 1 hr 10 min
Serving: 6 Servings
Atomic-sized servings of savory creamy onion custard are the perfect first course dish for a luncheon or dinner party. Have recipe prepared in advance and cook when guests arrive.
Ingredients
2 tablespoons butter
2 cups finely chopped yellow onions
1/4 teaspoon herbes de Provence
1/2 teaspoon salt
1/4 teaspoon freshly ground pepper
4 egg yolks
1-1/2 cups half-and-half
Directions
Preheat the oven to 325 degrees.
Melt the butter in a medium-sized sauté pan, and sauté the onions for about 7 minutes until translucent.
Sprinkle in the herbes de Provence, salt and the pepper and sauté for an additional minute. Set aside and allow to cool.
In a medium-sized bowl, mix the egg yolks and the half-and-half with a wire whisk. Stir in the onion mixture and combine.
Divide the mixture between 6 ramekins and then place in a baking pan. Fill pan with boiling water until water reaches halfway up sides of ramekins. Place in oven and bake for 30 minutes.
Remove custard from oven and baking pan and serve warm.