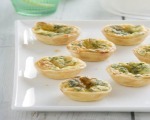 Prep: 15 min
Cook Time: 35 min
Total: 50 min
Serving: Serves 8 people
Savory Broccoli Tartlets are a lovely appetizer for parties and brunches, and are easy to prepare.
Ingredients
1 tablespoon olive oil
1 leek, finely sliced
6 ounces broccoli, broken into florets
1/2 ounce butter
1/2 ounce all-purpose flour
2/3 cup milk
2 ounces cheddar cheese, grated
Fresh parsley, chopped, for garnish
1 prepared 9-inch frozen pie crust, thawed
Directions
Preheat your oven according to pie crust package directions. On a lightly floured surface, spread out the pie crust and using either a round cookie cutter or small glass, cut out rounds from the dough. Line a muffin tin with paper liners. Add one round to each spot in the tin. Lightly press down on the rounds, and prick the bottom with a fork. Bake for about 10-12 minutes until the pastry is firm and lightly golden. Remove from oven and set aside.
Using a small saute pan, add the olive oil and cook the leek for about 5 minutes, until soft. Add the broccoli and stir fry for about 1-2 minutes, and add a bit of water. Cover and steam for about 4 minutes, or until the broccoli is tender.
In a separate saucepan, melt the butter and stir in the flour. Cook for a minute, constantly stirring. Slowly add the milk to make a smooth sauce. Add half the cheese and season with salt & pepper.
Spoon the broccoli & leek mixture into the tartlets, and spoon the sauce on top of each. Sprinkle each tartlet with the remaining cheese and bake until golden (about 10 minutes). Serve on a platter garnished with the parsley.