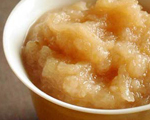 Prep: 10 min
Cook Time: 25 min
Total: 35 min
Serving: 6 Servings
This applesauce, with hints of ginger, clove and savory is ideal when served with roasted pork loin or vegetables and potatoes.
Ingredients
10 apples, peeled, cored, and cut into small pieces
1 cup sugar
3/4 cup fresh lemon juice
2 (1-inch) pieces fresh ginger, peeled
3 whole cloves
2 sprigs fresh savory
Directions
Combine the apples, sugar, lemon juice, ginger, cloves along with once cup of water in a large pot and bring to a boil.
Once boiling, reduce heat to medium and simmer, covered, for about 20 minutes, stirring occasionally. Apples will become extremely soft.
Turn off heat and smooth mixture by mixing with a handheld mixer. Drop in savory and set applesauce aside to cool.
Once cooled, remove the savory from the applesauce and serve.