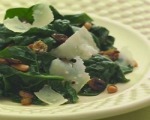 Prep: 10 min
Cook Time: 15 min
Total: 25 min
Serving: Serves 4 people
A side dish filled with iron and vitamins, Sauteed Spinach with Pine Nuts tastes delicious served alongside many different meals including rice dishes, egg dishes or meats.
Ingredients
2 bunches fresh spinach, chopped
4-6 garlic cloves, chopped
1/2 cup pine nuts
4 tablespoons olive oil
3/4 cup of dry white wine (you can substitute water)
2 teaspoons red pepper flakes
Salt & pepper to taste
Fresh grated Parmesan cheese for garnish
Directions
Using a large saute pan, toast the pine nuts over medium-high heat until they start to turn brown. Toss frequently and be sure to watch them carefully, as they can burn easily. Remove from pan and set aside.
To the same saute pan, add the olive oil. Next, add the garlic and saute briefly (about 30 seconds). Add the pine nuts and the spinach to the pan and mix well. Saute, stirring often, until the spinach wilts (about 2-3 minutes).
Add salt and the red pepper flakes to the spinach. Add the wine and toss everything and allow the liquid to boil off. Once all the liquid is gone, remove from heat and add salt & pepper to taste.
Place the spinach in a serving bowl and grate the fresh Parmesan on top before servings.