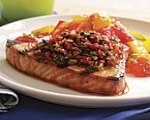 Prep: 10 min
Cook Time: 8 min
Total: 18 min
Serving: Serves 4 people
Grilled tuna with olive tapenade is perfect for a summer night. The taste is pure Mediterranean.
Ingredients
4 tuna steaks for grilling
1/4 cup kalamata olives
1/4 cup green olives
1/3 cup sun dried tomatoes
1 garlic clove, minced
1 tablespoon capers
1 teaspoon olive oil
1 teaspoon fresh lemon juice
1/2 teaspoon Dijon mustard
Non-stick cooking spray
Directions
Spray your grill grate with non-stick cooking spray. Preheat your grill to medium-high heat. Using a food processor, pulse the olives, capers, garlic, sun dried tomatoes, olive oil, lemon juice and mustard. Pulse until coarsely chopped and set aside.
Lower your grill heat to medium. Brush both sides of the tuna steaks with olive oil and season with salt and pepper. Covered, cook the tuna for about 2-4 minutes on each side. Remove from grill and cover with foil.
After the tuna has rested under the foil for about five minutes, plate them and top each steak with the olive tapenade.