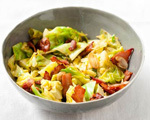 Prep: 10 min
Cook Time: 15 min
Total: 25 min
Serving: 4 Servings
Everything tastes better with bacon, especially sautéed cabbage. Enjoy the sweet and smoky balance of flavors in this side dish.
Ingredients
1 2-1/2-pound cabbage
6 slices bacon, coarsely chopped
2 cloves garlic, cut into 1/4-inch-thick slices
1/2 cup water
1 teaspoon sugar
1/4 teaspoon salt
1/2 teaspoon black pepper
2 teaspoons fresh lemon juice
Directions
Cut the cabbage into quarters, core and then cut into large pieces.
Place the bacon in a large skillet over medium heat and cook for 3 minutes.
Add the garlic to the pan and cook for an additional 3 minutes, stirring frequently.
Add the cabbage, water, sugar, salt, pepper and lemon juice; toss to combine then cover and cook for 8 minutes. Serve warm.