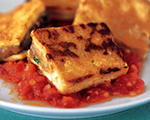 Prep: 15 min
Cook Time: 13 min
Total: 28 min
Serving: 4 Servings
A great Mediterranean-inspired vegetarian meal that combines the earthy taste of mushrooms with fresh tomatoes and silky tofu.
Ingredients
14 ounces extra-firm tofu, preferably water-packed
2 teaspoons extra-virgin olive oil
2 medium tomatoes, coarsely chopped (about 1-1/2 cups)
1-1/2 cups sliced mushrooms (4 ounces)
2 tablespoons prepared pesto
2 tablespoons prepared pesto
Directions
Rinse off the tofu and blot dry with paper towels. Slice the tofu and then crumble each slice into pieces.
In a large sauté pan, heat the oil over high heat and sauté the tofu for 5 minutes, without stirring.
Continue to cook the tofu for an additional 6 minutes until golden brown, stirring occasionally to ensure even cooking.
Stir in the tomatoes and mushrooms and cook the mixture for 2 minutes.
Remove the pan from heat and add the feta and the pesto. Stir until well combined and then serve immediately.