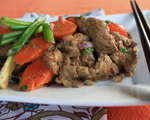 Prep: 4 hr
Cook Time: 35 min
Total: 4 hr 35 min
Serving: Serves 2
The sweet taste of the carrots compliments the spicy taste of the beef that has been marinated in a wonderful mixture of spices. Cook the beef in a wok to retain its moisture and lock in flavor.
Ingredients
1/2 pound sirloin, cut into thin strips
1/2 red onion, finely chopped
1/2 teaspoon cumin powder
1/2 teaspoon coriander powder
1/2 teaspoon paprika
3 garlic cloves, chopped
1 teaspoon ginger, grated
1 pinch chili powder
salt and freshly ground black pepper
2 tablespoons olive oil
2 carrots, sliced
1 tomato, cut into quarters
2 scallions
Directions
Place the beef strips in a large baking dish and sprinkle with the onion, cumin powder, coriander powder, paprika, garlic, ginger, chili powder, salt and pepper. Cover and place into the refrigerator; marinate for at least 4 hours.
Heat the olive oil in a wok or large sauté pan over high heat and sauté the carrots and tomatoes for about 5 minutes. Remove from pan and set aside.
Sauté the beef a few strips at a time. Add the carrots and tomatoes back into the pan and sauté for 3 more minutes.
Take pan off heat and stir in scallions. Lightly toss and serve immediately.