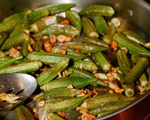 Prep: 10 min
Cook Time: 10 min
Total: 20 min
Serving: 4 Servings
Except for Southerners who cook with this vegetable quite frequently, many people do not know what okra is. Okra is a plant that produces an edible pod with a vast array of nutritional benefits. Try it in this recipe sautéed with roasted cashews.
Ingredients
1/4 cup extra-virgin olive oil
2 pounds small okra
Salt and freshly ground pepper
6 cloves garlic, thinly sliced
1/2 cup salted roasted cashews, chopped
1 teaspoon finely grated lime zest
Directions
Place the olive oil into a large sauté pan over high heat. Once the oil begins to shimmer, add the okra and a few pinches of salt and pepper, and sauté for 6 minutes.
Stir the sliced garlic into the skillet, cook for 3 minutes, and then add the roasted cashews and the lime zest. Gently toss the mixture to combine and then serve immediately.