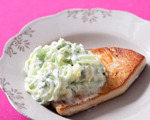 Prep: 10 min
Cook Time: 10 min
Total: 20 min
Serving: 4 Servings
Spoon cool and creamy Greek yogurt and mint sauce over pan-seared mahi-mahi fish fillets for a healthy and unique dish.
Ingredients
2 cucumbers, peeled and grated
1 garlic clove
1 cup thick plain Greek yogurt
2/3 cup finely chopped fresh mint leaves
2 teaspoons lime juice
1-1/2 teaspoons finely chopped jalapeno
1-1/2 pounds mahimahi fillet (about 3/4-inch thick), cut into 4 portions
1-1/2 tablespoons olive oil
Sea salt and freshly ground pepper
Directions
Place the garlic into a medium-sized bowl, sprinkle with a few pinches of salt and mash well to combine.
Add the cucumber, yogurt, mint, lime juice, and jalapeno and stir the mixture until thoroughly blended.
Place the olive oil into a large sauté pan over medium-high heat. Sprinkle the salt fillets on both sides with some salt and pepper and then place in the pan with the hot oil. Cook for 5 minutes, flip, and then cook for an additional 5 minutes.
Transfer the fish to serving plates, top with the yogurt sauce and serve immediately.