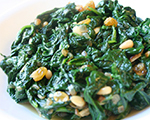 Prep: 10 min
Cook Time: 5 min
Total: 15 min
Serving: 4 Servings
An elegant side dish of spinach accented by flavors of toasted pine nuts and sweet golden raisins. Top with freshly shaved Parmesan cheese.
Ingredients
2 teaspoons extra-virgin olive oil
2 tablespoons golden raisins
1 tablespoon pine nuts
2 cloves garlic, minced
1 10-ounce bag fresh spinach, tough stems removed
2 teaspoons balsamic vinegar
1/8 teaspoon salt
2-1/2 tablespoons shaved Parmesan cheese
Freshly ground pepper to taste
Directions
Place the oil in a large sauté pan and heat over medium-high heat.
Stir in the raisins, pine nuts and garlic and sauté for 30 seconds, and then add in the spinach and cook for 2 additional minutes until spinach is wilted.
Take the pan off the heat and add in the vinegar and the salt. Mix to combine and then evenly divide the spinach mixture between 4 plates. Top with the Parmesan cheese and a few grinds of fresh pepper and serve immediately.