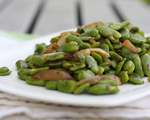 Prep: 20 min
Cook Time: 40 min
Total: 1 hr
Serving: Serves 4
In order to make this a vegetarian meal, use vegetable instead of chicken broth, and omit the pancetta; the dish becomes just as good and flavorful. Serve the beans with a rich Italian wine like Falanghina, Greco di Tufo or Fiano di Avellino.
Ingredients
3 pounds fresh fava beans, shelled
1/3 cup olive oil
1 cup chopped onion
1 fresh fennel bulb, trimmed, sliced
1 teaspoon fennel seeds, coarsely ground in spice grinder
1-1/3 cups chicken broth
4 tablespoons chopped fresh dill, divided
1/2 cup chopped pancetta
1/2 teaspoon dried savory
2 tablespoons fresh lemon juice
Directions
Bring a medium-sized saucepan of salted water to boil, and cook fava beans for 2 minutes. Remove from pan and cool; peel off the outer skins of beans.
In a large sauté pan, heat the olive oil over medium-high heat and sauté the onion and the fennel for about 5 minutes or until onion becomes translucent.
Add the fava beans and fennel seeds to the pan and sauté for 3 minutes.
Slowly add 1 cup of broth to the pan while stirring, and then 2 tablespoons of the dill. Bring the mixture to a boil and then reduce the heat and simmer, half covered, for about 12 minutes.
If the mixture appears dry, add more broth. Add the pancetta and savory and continue to simmer for an additional 15 minutes.
Pour in the lemon juice and add the remaining 2 tablespoons of dill. Sprinkle the beans with salt and pepper and serve warm.