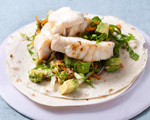 Prep: 20 min
Cook Time: 8 min
Total: 28 min
Serving: Serves 4
Sautéing the fish keeps it light and delicious. Enjoy these tacos topped with a drizzle of spicy-hot Chipotle mayo.
Ingredients
1/2 cup mayonnaise
1/4 cup plain Greek-style yogurt
1 tablespoon chipotle Tabasco
8 corn tortillas
3 tablespoon lime juice
6 tablespoon vegetable oil v
2 cups thinly sliced romaine lettuce
1 avocado, peeled, pitted and cut into 1/2-inch chunks
1/2 cup grated carrot
1/4 cup finely chopped red onion
1 pound cod fillet, cut into 3- by 1-inch wide strips
Salt and pepper
Directions
Preheat the oven to 350 degrees.
In a small bowl, place the mayonnaise, yogurt, chipotle Tabasco, and 1/4 tsp salt. Whisk together to combine then set aside.
In a large bowl, whisk together the lime juice with 2 tablespoons of oil and a few pinches of salt and pepper. Add the lettuce, avocado, carrot, onion and toss to combine.
Place the remaining oil in a large skillet over medium-high heat. Once the oil begins to shimmer, sprinkle the fish with salt on both sides and then place in the skillet to cook for 4 minutes, turning once.
Fill the tortillas with the cod and then top with the lettuce mixture and a drizzle of the chipotle mayo. Serve immediately.