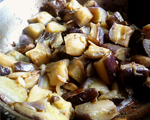 Prep: 10 min
Cook Time: 30 min
Total: 40 min
Serving: 4 Servings
If you have extra time, sprinkle the eggplant cubes thoroughly with salt and place them in a colander to drain for 1 hour, and then rinse with cold water and pat dry. The salt helps draw out the vegetable's moisture, making them less bitter and firmer.
Ingredients
2 pounds small to medium eggplant, cut into 1/2-inch cubes
salt
1/3 cup extra virgin olive oil
1 tablespoon minced garlic
freshly ground black pepper
1/4 cup fresh basil leaves, torn
Directions
Place the olive oil into a large sauté pan over medium heat.
Add the garlic to the pan once the oil begins to shimmer, and cook for 2 minutes.
Add the eggplant and cook for 8 minutes, stirring constantly.
Continue to cook the eggplant, stirring frequently, for about 20 minutes or until tender.
Transfer the eggplant mixture to a serving dish and sprinkle with the pepper and basil.