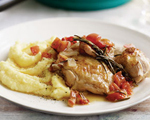 Prep: 15 min
Cook Time: 45 min
Total: 1 hr
Serving: 6 Servings
A tasty Northern Italian inspired dish, serve as a main course for dinner over creamy mashed potatoes and a side of steamed asparagus.
Ingredients
2 tablespoons olive oil
3 large chicken breast halves
3 chicken drumsticks with skin
3 chicken thighs with skin
1 cup 1/4-inch cubes prosciutto (about 5 ounces)
6 garlic cloves, thinly sliced
2 tablespoons chopped fresh rosemary
1-1/4 cups dry white wine
1 cup chicken broth
1 cup canned crushed tomatoes
Directions
Preheat the oven to 325 degrees.
In a large ovenproof sauté pan, heat the oil over medium-high heat and add in the chicken. Sauté for 5 minutes per side and then transfer onto a plate, and sprinkle with salt and pepper.
Add the prosciutto, sliced garlic, and chopped rosemary to the pan and sauté for 1 minute, until garlic is fragrant. Pour in the wine, broth and tomatoes and bring the mixture to a boil while scraping the bottom of the pan to loosen any browned bits of food.
Boil the mixture for 5 minutes and then place the chicken back into the pan. Bring to a boil and then cover the pan and place in the heated oven. Cook for 25 minutes and then remove pan from oven and remove the chicken. Set aside on a plate and keep warm.
Boil the sauce in the sauté pan for 5 minutes until thickened and then sprinkle with some salt and pepper to taste. Spoon the sauce over the chicken and serve immediately.