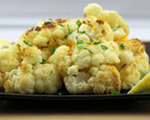 Prep: 5 min
Cook Time: 10 min
Total: 15 min
Serving: 2 Servings
The mild flavor of cauliflower makes an ideal base for this flavorful side dish made with a combination of Kalamata olives, orange zest and toasted pine nuts.
Ingredients
4 tablespoons extra-virgin olive oil, divided
1 (6-to-7-ounce) bunch cauliflower
2 large garlic cloves, chopped
1/3 cup halved and pitted Kalamata olives
2 teaspoons finely minced organic orange zest
2 tablespoons pine nuts
2 tablespoons chopped parsley
1 tablespoon cilantro
juice from one lemon
2 tablespoons soy sauce
Directions
Place 2 tablespoons of the olive oil in a large sauté pan over medium-high heat. Once it begins to shimmer, add the cauliflower and sauté for 5 minutes.
Add the garlic to the pan and cook for 1 minute, then add then pine nuts and continue to sauté the mixture until the nuts turn golden brown.
Stir in the olives and 2 teaspoons of the orange peel, and then add the soy sauce and the lemon juice, stirring the mixture well. Sprinkle in the parsley and cilantro and then drizzle the mixture with the remaining olive oil.