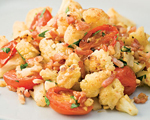 Prep: 10 min
Cook Time: 15 min
Total: 25 min
Serving: 4 Servings
This Italian-inspired side dish is high in fiber and low in calories. Serve with fish or roasted chicken.
Ingredients
2 tablespoons chopped pancetta
2 tablespoons extra-virgin olive oil, divided
4 cups chopped cauliflower florets (from 1 medium head)
2 tablespoons water
2 teaspoons red-wine vinegar
1 cup grape tomatoes, halved
2 tablespoons chopped fresh parsley
1 tablespoon minced garlic
2 anchovy fillets, minced
1/4 teaspoon salt
1/4 teaspoon freshly ground pepper
Directions
Place the pancetta into a large skillet over medium heat and cook for 5 minutes, then transfer to a paper-towel to drain.
Place 1 tablespoon of oil into the same pan and then add the cauliflower and cook for 4 minutes.
Pour in the water and the vinegar, cover, and cook for 4 additional minutes.
Stir in the remaining oil, tomatoes, parsley, garlic and anchovies, and add a few pinches of salt and pepper. Cook the mixture for 2 minutes and then serve topped with the pancetta.