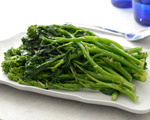 Prep: 5 min
Cook Time: 10 min
Total: 15 min
Serving: 4 Servings
Prior to sautéing the broccoli rabe, you can either boil or steam the vegetable until bright green and tender.
Ingredients
2 pounds broccoli rabe
2 cloves minced garlic
zest of 1/2 lemon
sea salt and freshly ground black pepper
2 tablespoons extra-virgin olive oil plus to drizzle
Directions
Bring a large pot of salted water to boil. Once boiling, add the broccoli rabe and boil for 4 minutes until tender. Transfer to a colander and drain well.
Place 2 tablespoons of olive oil into a large sauté pan over medium heat. Once it begins to shimmer, add the garlic, sauté for 20 seconds, and then add the broccoli rabe and a few pinches of salt and pepper.
Sauté the mixture for 3 minutes and then add the lemon zest. Toss the mixture to combine, drizzle with a bit of olive oil and then serve immediately.