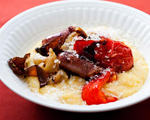 Prep: 10 min
Cook Time: 15 min
Total: 25 min
Serving: 4 Servings
Enjoy this Italian-inspired dish alone, or roughly chop the mixture into smaller pieces, stuff into a sub roll with some Provolone cheese and enjoy as a hearty sub.
Ingredients
2 cubanelle peppers (about 8 ounces), seeded and quartered
3 bell peppers, seeded and quartered
2 tablespoons olive oil
sea salt and freshly ground black pepper
4 garlic cloves
1 teaspoon red chile flakes
1-1/2 pounds sweet mild Italian sausage (poultry or pork), cut into thirds
Directions
Prepare your oven broiler on high, and line a baking sheet with aluminum foil.
Place the peppers, sausages olive oil, garlic, chile flakes, and a few pinches of salt and pepper into a bowl and toss to coat.
Transfer the mixture to the prepared baking sheet, spread into 1 single layer and then place in the oven for 15 minutes. Serve hot.