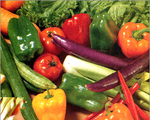 Prep: 15 min
Cook Time: 1 hr
Total: 1 hr 15 min
Serving: 6
Pair Italian sausage and garbanzo beans with the classic eggplant dish and Voila! Sausage Ratatouille.
Ingredients
1 1/4 pounds hot or sweet Italian sausage links
1/4 cup water
3 tablespoons olive oil
2 green peppers, cut into bite-sized pieces
1 eggplant, cut into bite-sized chunks
1 onion, sliced
1, 28 ounce can tomatoes
2 zucchini, cut into bite-sized chunks
1 teaspoon sugar
1/2 teaspoon salt
1/2 teaspoon thyme leaves
1, 16 to 20 ounce can garbanzo beans, drained
Directions
In 12 inch skillet over medium heat, heat sausages and water to boiling. Cover; simmer 5 minutes. Remove cover; continue cooking, turning sausages frequently, until sausages are well browned, about 10 minutes. Remove sausages to paper towels to drain. Slice sausages into 1/2 inch pieces.
To drippings in skillet, add oil. Over medium heat, heat oil until hot; add green peppers, eggplant and onion; cook until vegetables are browned on all sides, stirring occasionally.
Return sausages to skillet. Add tomatoes with their liquid, zucchini, sugar, salt and thyme leaves; over high heat, heat to boiling. Reduce to low heat; cover and simmer 30 minutes, stirring occasionally. Stir in garbanzo beans; heat through.