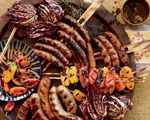 Prep: 10 min
Cook Time: 24 min
Total: 34 min
Serving: 4 Servings
This sausage mixed grill smorgasbord combines a mouth-watering assortment of various kinds of sausages including: sweet Italian, weisswursts and breakfast sausages. Serve as an appetizer platter with glasses of chilled white wine.
Ingredients
12 breakfast sausages
4 weisswursts
4 sweet Italian sausages
16 multicolored mini bell peppers
2 heads of radicchio, cut into 6 wedges each
Olive oil, for brushing
Salt and freshly ground black pepper
Directions
Prepare your grill on medium heat.
Using a sharp knife, pierce each sausage numerous times on all sides.
Place the peppers, radicchio and sausages onto separate skewers and then brush with the olive oil. Sprinkle all of the ingredients with a few pinches of salt and pepper and then place on the grill.
Grill the radicchio for 3 minutes, the bell peppers, breakfast sausages and the weisswursts for 11 minutes and the Italian sausage for 24 minutes. Make sure to flip the ingredients occasionally to ensure even cooking on all sides. Serve immediately.