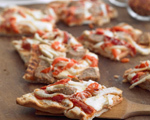 Prep: 10 min
Cook Time: 10 min
Total: 20 min
Serving: 4 Servings
This gourmet-style pizza is made with fennel bulb, artichoke-and-garlic sausage and roasted bell peppers.
Ingredients
Vegetable oil for grill
1 can (13.8-ounce) refrigerated pizza crust dough
1/2 cup Cabernet marinara sauce
8 oz fresh mozzarella cheese packed in water cut into 1/4-inch-slices
1 medium fennel bulb thinly sliced
1/2 cup roasted red bell peppers cut into strips
2 fully cooked artichoke-and-garlic sausages cut into 1/4-inch-thick diagonal slices
1/4 cup shredded Parmesan cheese
Directions
Prepare grill over medium heat, and oil grill grate with some vegetable oil to prevent sticking.
Remove the pizza dough from the can, unroll and then place on the grill for 2 minutes.
Flip the dough and top with the marinara sauce leaving about a 1-inch border from all sides.
Top the sauce with the mozzarella cheese, fennel, sausage and Parmesan, and then cover the grill and cook the pizza for 8 minutes. Serve immediately.