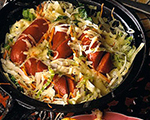 Prep: 10 min
Cook Time: 18 min
Total: 28 min
Serving: 4 Servings
This German-inspired hearty dish is made with smoked Bratwurst sausage smothered in a sweet and tangy sauerkraut.
Ingredients
4 fully cooked smoked bratwurst (about 12 ounces total)
6 cups shredded cabbage
1 cup water
1/2 cup chopped onion
1/2 cup shredded carrot
1 teaspoon caraway seed
1/4 teaspoon pepper
1/8 teaspoon salt
5 ounces shredded Swiss cheese
Directions
With a sharp knife, cut slits down the length of the bratwurst, careful not to cut through to the opposite side.
In a large sauté pan, add the cabbage, water, onion, carrot, caraway seed, pepper and salt, and toss to combine.
Place the sausage on top of the cabbage mixture and place pan over high heat; bring to a boil.
Cover the pan and simmer over medium-low heat for 15 minutes, and then remove cabbage mixture and sausage from the pan using a slotted spoon to remove liquid.
Transfer to a large platter, sprinkle with the cheese, toss and serve immediately.