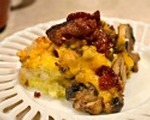 Prep: 35 min
Cook Time: 15 min
Total: 50 min
Serving: Serves about 8 people
Although you certainly can't eat sausage and bacon every day, it's perfectly acceptable to indulge on weekends or once in a while, don't you think? When you're craving some serious breakfast meat, eggs and cheese, whip up this easy casserole. Your waistline may not love it, but your tastebuds will!
Ingredients
1 pound ground spicy pork sausage
1/2 cup mushrooms, sliced
6 eggs, lightly beaten
2 cups light cream
8 slices white Italian bread
2 cups cheddar cheese
Dash of salt
Dash of pepper
1 pound bacon, fully cooked
1 tablespoon pure maple syrup
1/2 tablespoon brown sugar
Directions
Grease a 3-quart casserole dish with butter.
In a medium pan, cook sausage and mushrooms, crumbling sausage with your spatula while you mix. Cook until browned, about 8 minutes.
Line the bottom of the casserole dish with cubed bread. Pour sausage over the bread. Beat eggs and cream together. Pour egg mixture over the sausage. Spread cheddar cheese over egg mixture. Cover casserole and chill overnight.
Once chilled, preheat oven to 350 degrees F. Bake casserole for 15 minutes. While casserole cooks, prepare bacon by cooking in a medium pan over medium heat until crispy, about 8 minutes. Drain and blot with a paper towel. In a bowl, combine bacon, maple syrup and brown sugar. Set aside.
Once casserole has baked for 15 minutes, sprinkle bacon on top and bake an additional 5 minutes. Let cool and enjoy!