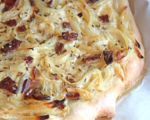 Prep: 10 min
Cook Time: 15 min
Total: 25 min
Serving: Serves 4 people
Simple to make and elegant to serve, Sausage & Onion Tarte makes a great meal served along with a fresh green salad.
Ingredients
1 pound of herbed sausage (any type of sausage can be used)
2 large onions, sliced
9-ounce prepackaged puff pastry, thawed if frozen
3 tablespoons vegetable oil
Salt and pepper to taste
Directions
Preheat oven to 375 degrees F. In a large non-stick pan with an ovenproof handle, heat the oil on medium-high heat. Add the sausage and cook, turning occasionally, for about 8 minutes (or until golden). Remove from pan and set aside.
Pour any remaining oil from the sausage into another large pan and add the onions. Cook over medium heat. Stir in salt and pepper. Cook for about 10 minutes (or until the onions caramelize), stirring occasionally.
Slice the sausage into 4-5 chunks and stir into the onion mixture. Remove from heat and set aside.
Roll out the puff pastry and cut out a circle that is a bit larger than the pan. Lay the pastry over the sausage and onion mixture, turning the edges of the pastry in all the way around. Bake for 20 minutes, or until the pastry is risen and golden brown. Turn the tarte over onto a non-stick working surface, pastry side down. Slice into wedges and serve warm.