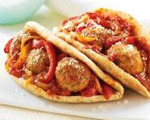 Prep: 20 min
Cook Time: 30 min
Total: 50 min
Serving: Makes 12 meatballs
This recipe for Saucy Meatball Sub Sandwiches is a definite crowd pleaser. Make it for your diehard football fans or enjoy these subs as a fun, family dinner.
Ingredients
4 Whole Grain Round White Buns
1 sweet red pepper, diced
Parmesan cheese to top subs
FOR THE SAUCE:
1 cup chopped onion
2 cloves garlic, minced
1 can (28 ounces) stewed tomatoes
1 can (13 ounces) tomato paste
1/2 cup red wine
1 teaspoon parsley
1 teaspoon oregano
1 teaspoon basil
Salt and fresh pepper
1 bay leaf
FOR THE MEATBALLS:
1 pound ground beef
1/2 pound ground pork
1 cup freshly grated Parmesan cheese
1 cup dried bread crumbs
2 eggs
2 cloves garlic, minced
1 teaspoon dried parsley flakes
1 teaspoon salt
1/2 teaspoon freshly ground black pepper
1/4 teaspoon oregano
1 tablespoon olive oil plus some for greasing
Directions
Preheat your oven to 350 degrees, line a baking sheet with aluminum foil and then brush with olive oil.
Place the beef, pork, cheese, bread crumbs, eggs, garlic, parsley flakes, salt, pepper and oregano into a large bowl, and mix together until thoroughly combined. Shape the mixture into 12 balls and then place on the prepared baking sheet. Bake the meatballs in the oven for 25 minutes.
In the meantime, place 1 tablespoon of olive oil into a large saucepan over medium heat. Once it begins to shimmer, add the onion and sauté for 4 minutes, then add the garlic and cook for another 30 seconds.
Stir in the tomatoes, tomato paste, wine, parsley, oregano, basil, bay leaf and a few pinches of salt and pepper. Bring the mixture to a simmer and cook for 20 minutes, uncovered.
Transfer the cooked meatballs to the hot sauce and remove the saucepan from the heat. Fill each bun with 3 meatballs and sauce, and then top with the diced red pepper and some Parmesan cheese.