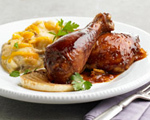 Prep: 15 min
Cook Time: 25 min
Total: 40 min
Serving: 4 Servings
This recipe does not skimp on the delicious BBQ sauce so serve with a side of mashed potatoes or rice.
Ingredients
8 small chicken drumsticks
1 large onion, cut in 6 slices
1 cup ketchup
1/4 cup molasses
4 tablespoons cider vinegar
2 tablespoons packed brown sugar
1 teaspoon smoked paprika
Several dashes bottled hot pepper sauce
Fresh Italian (flat-leaf) parsley
Salt and pepper
Directions
Prepare the oven broiler.
Season the chicken with salt and pepper and then place on a broiler pan.
Put the pan into the oven and cook for 10 minutes.
Remove the pan from the oven, flip the chicken and add the sliced onion after brushing with oil. Place the pan back into the oven for 15 minutes and cook at 180 degrees.
In the meantime, combine the ketchup, molasses, vinegar, brown sugar, paprika, and pepper sauce in a saucepan and place over medium heat. Bring the mixture to a boil and then remove from heat.
Brush the chicken during the last 2 minutes of cooking with the sauce.
Remove the chicken and brush again with any remaining sauce. Serve immediately.