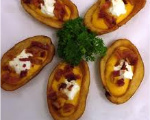 Prep: 20 min
Cook Time: 10 hr 15 min
Total: 10 hr 35 min
Serving: 6-8 servings
Twice baked potatos with a cheesy bacon topping.
Ingredients
6-8 potatoes
1/2 cup butter, melted
6-8 strips of bacon, cooked and crumbled
1/2 cup salsa
1 (8 ounce) package shredded cheddar cheese
Directions
Poke the potatoes with a fork, wrap in aluminum foil and place int he slow cooker. Cover and cook on low for 8-10 hours.
Cut the potato in half, and scoop out the center, leaving 1/4 of it on the skin. Drizzle the butter on top and then fill with the salsa, bacon and cheese. Arrange on a cookie sheet and broil for 10-15 minutes, or until the cheese has melted.