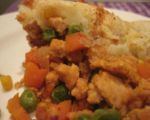 Prep: 20 min
Cook Time: 45 min
Total: 1 hr 5 min
Serving: Serves 8 people
A traditional favorite, this version of Satisfying Shepherd's Pie is easy to make. A great one-dish dinner for the family.
Ingredients
5 potatoes, peeled and quartered
1 pound of lean ground beef
1/2 cup of fresh mushrooms, chopped
1, 16-ounce bag of frozen mixed vegetables of your choice
1 can of cream of mushroom soup (10-ounce size)
1 can of cream of celery soup (10-ounce size)
2 garlic cloves, minced
Salt and pepper to taste
3 tablespoons of butter
1/2 cup of shredded cheddar cheese
Directions
Preheat your oven to 350 degrees. Coat a 9x13 baking dish with cooking spray.
Bring a large pot of salted water to a boil. Cook potatoes in boiling water until tender (about 15 minutes).
Drain the potatoes and reserve some of the cooking water. Mash the potatoes using some of the cooking water to moisten the potatoes. Set the potatoes aside.
Over medium-high heat using a large skillet, add the ground beef and garlic and cook until the ground beef until brown. Drain the fat from the skillet.
Stir in the mushrooms, mixed vegetables, mushroom soup, celery soup, and salt and pepper and heat through. Pour the mixture into the baking dish and cover it with the mashed potatoes and dot with butter.
Bake the mixture until the potatoes are golden and beef and vegetable mixture is hot and bubbly (about 30 minutes). During the last 15 minutes of baking, add the shredded cheddar cheese to the top of the mixture.