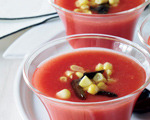 Prep: 40 min
Cook Time: 5 min
Total: 45 min
Serving: 10 Servings
This recipe for Sangrita Soup was inspired by the famous Mexican tomato and orange juice drink that is traditionally served with tequila as a sipper. Feel free to stir in an ounce of silver tequila prior to serving as an added twist.
Ingredients
2 medium ears of corn, shucked
4 pounds beefsteak tomatoes, cored and coarsely chopped
1-1/2 cups fresh orange juice
1 tablespoon fresh lime juice
1-1/2 teaspoons pure ancho chile powder
1 teaspoon pure New Mexico chile powder
1 tablespoon grenadine syrup
Salt
10 oil-cured black olives, pitted and thinly sliced
Directions
Place the corn in a large pot of boiling salted water and cook for 5 minutes until tender. Using a sharp knife, cut the kernels off the cob once cool enough to handle.
In the meantime, place the tomatoes into a blender and process until smooth. Using a fine mesh sieve, strain the pureed tomatoes and place the juice into a bowl. Add the orange juice, lime juice, chile powders, grenadine and a few pinches of salt to the bowl, and stir well to combine. Place the mixture into the refrigerator and chill for 20 minutes.
Serve the soup garnished with the cooked corn and the olive slices.