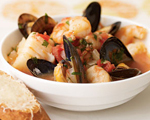 Prep: 25 min
Cook Time: 1 hr
Total: 1 hr 25 min
Serving: 6 Servings
Cioppino is a seafood stew that has Italian roots but actually originated in San Francisco. The seafood is combined with fresh tomatoes in a wine sauce and then served with toasted sourdough bread.
Ingredients
1 cup olive oil
3 cloves garlic, minced
1/4 cup onion, finely chopped
1 large fennel bulb, thinly sliced
2 tablespoons parsley, chopped
1/4 cup tomato paste
1 can diced tomatoes in juice
1/2 teaspoon dried oregano
1/2 teaspoon dried marjoram leaves
2 cups dry white wine
salt and freshly ground pepper to taste
1/2 cup dry sherry
Directions
Heat a large sauté pan on medium-high heat and add the olive oil. Sauté the garlic, onion, fennel and parsley until the onion is transparent and soft.
Mix in the tomato paste, diced tomatoes, oregano and marjoram and stir well.
Pour in the white wine and add salt and pepper to taste; bring mixture to a boil. Once boiling, reduce heat to medium-low and simmer for 20 minutes.
Add sherry to the mixture and continue to simmer for an additional 10 minutes.
Stir in the remaining ingredients, cover the pan and bring to a rolling boil. Once boiling, reduce heat to medium-low and simmer for 15 minutes.